Zordon's Energy Wave
Talk

0
9,867pages on
this wiki
"Andros, listen to me. It is your duty as a Power Ranger to save the universe. Now is the time."
―Zordon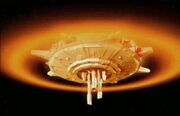 Zordon's Energy Wave (or Z-Wave) is the very essence of the wizard, Zordon, created upon the destruction of his energy tube at the hands of Andros' Spiral Saber. The death of the character released a wave of good energy that purged the galaxy of the United Alliance of Evil, who, up until that point, that had finally conquered the galaxy with the help of Dark Specter and Astronema.
The following villains that were affected are:
Dark Specter and Darkonda had both already destroyed each other in a conflict shortly before the wave was released. And while it's never seen or explained what happens to the following characters:
Most assume that they were either destroyed or purified by the wave as well.
Post Zordon Wave
In the aftermath of Zordon's death, several groups of villains appear in future seasons of Power Rangers, however, the series has been able to avoid contradicting the effect of the energy wave to past villains by either never using them again or giving those who survived entirely different roles (as seen with Rita Repulsa who would go on to become the Mystic Mother in Power Rangers Mystic Force).
One can assume with the beginning of Lost Galaxy and every season following after it, the wave was retconned to destroy only the United Alliance of Evil, the major threat at that time. However it can be argued that some villains not of "our" galaxy were too far to be affected, contained at the time within a mystical prison, from another dimension altogether or not evil at the time of the wave.
Notes
When the wave reaches Earth (and Angel Grove), the Space Rangers were forcibly demorphed. (Oddly, the Aquitian Rangers, the Phantom Ranger, and Trey of Triforia, the Gold Ranger did not demorph although they participated in the battle as well.)
Thrax, the son of Rita Repulsa and Lord Zedd was somehow spared from the Z-Wave and arrived on Earth to exact vengeance against the Power Rangers almost nine years later. However, it's unclear when Thrax was sealed, given that he was defeated by the embodied Sentinel Knight (thus sparing him of either destruction or purification).
Rito Revolvo was originally slated to be purified of evil along with his sister Rita. However, due to the fact that his costume was damaged and not repaired, he did not appear in the episode, leaving his fate uncertain.