Zoku Yellow (ゾクイエロー, Zokuierō?): A Gorotsuki who hung out at the bar on the Baribarian as one of the prominent members within the satellite. He and three of his partners were utilized by SS Pamaan to become the Boso Sentai Zokuranger and fought with Yellow Racer. He fought with a lance-like weapon, but later with two round knives similar to Yellow Racer's weapons.
After SS Pamaan/ZokuRed was killed, the others continued helping the Bowzock out the best they could. At the finale, they are shown to be part of their own studio.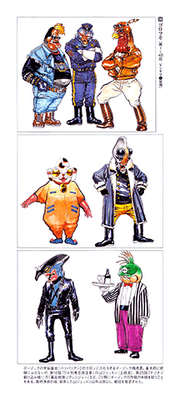 See also
Ad blocker interference detected!
Wikia is a free-to-use site that makes money from advertising. We have a modified experience for viewers using ad blockers

Wikia is not accessible if you've made further modifications. Remove the custom ad blocker rule(s) and the page will load as expected.