Zan-KT0 of the Shot (ショットのザンKT0, Shotto no Zan Kē Tī Zero): A prototype version of Zan-KT of the Shield. Behind the scenes of Tensou Sentai Goseiger vs. Shinkenger: Epic on Ginmaku, Zan-KTO was deployed to destroy the Negakure Temple to obtain the power source that Metal Alice had detected within it. However, he was defeated by the time-traveling Gokaigers using the Timeranger Keys before being scrapped by GouZyuJin. Voiced by Tora Take (武 虎, Take Tora).
Biography
to be added
Profile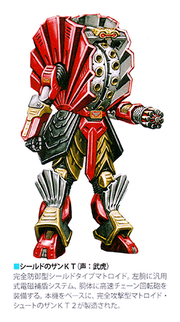 Triva
See also
External links
Ad blocker interference detected!
Wikia is a free-to-use site that makes money from advertising. We have a modified experience for viewers using ad blockers

Wikia is not accessible if you've made further modifications. Remove the custom ad blocker rule(s) and the page will load as expected.