description to be added
Character History
Zamuzan Sheik (ザムザ星人シェイク, Zamuza Seijin Sheiku?, 9 & 10): Arrested on the charges of mass-murder via explosives, he is a genius bomb manufacturer, as shown by his escape from prison. He piloted the 1st version of Heavy Industrial Machine Shinobi Shadow. Deleted by the D-Bazooka.
Personality
to be added
Modus and Arsenal
Notes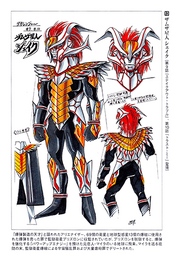 Portrayal
Behind the Scenes
His home planet is named after Gregor Samsa, the main character of the Franz Kafka's novel, The Metamorphosis.
His name is based on William Shakespeare.
Conception
See Also
References
Ad blocker interference detected!
Wikia is a free-to-use site that makes money from advertising. We have a modified experience for viewers using ad blockers

Wikia is not accessible if you've made further modifications. Remove the custom ad blocker rule(s) and the page will load as expected.