description to be added
Character History
Bowzock's fashion designer, a very effeminate Gorotsuki who Ritchihiker uses in a scheme to have Signalman and the Carrangers destroy each other. Posing as a victim of Wumper abuse, Zeri manages to trick Signalman into putting on his rage-inducing "Anger Jacket" to have him under Ritchihiker's control with another made for Sirender when Signalman summons it. After Blue Racer and Green Racer destroy the remote while Red Racer removes the coat, Zeri enlarges to attack RV Robo by blasting patchwork shaped lasers from his eyes and electrified fabric samples s Sirender intervened as Zeri is then killed off by the combined teamwork of Sirender & RV Robo.
Personality
to be added
Modus and Arsenal
Notes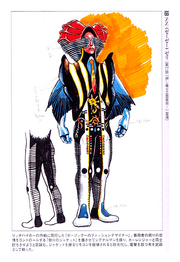 Portrayal
Behind the Scenes
His motifs are a fashion designer and tropical fishes.
See Also
References
Ad blocker interference detected!
Wikia is a free-to-use site that makes money from advertising. We have a modified experience for viewers using ad blockers

Wikia is not accessible if you've made further modifications. Remove the custom ad blocker rule(s) and the page will load as expected.