description to be added
Character History
Bowzock's biggest lover of kimchi. He piloted the RV Robo when it came under Bowzock control, with a row of explosives strapped to it. While VRV Robo & RV Robo battled, Red Racer managed to sneak inside the RV Robo, and in one of the best-remembered scenes in the show, fought Gyuuri on top of the waist-mounted explosives (halting RV Robo in the process). Red Racer managed to send the monster hurtling to the ground before shooting the bomb off and knocking it onto him. Gyuuri survived somehow and enlarged himself. Killed by VRV Robo.
Personality
to be added
Modus and Arsenal
Notes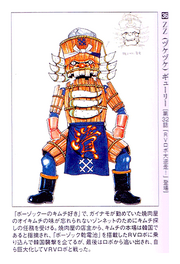 Portrayal
Behind the Scenes
See Also
References
Ad blocker interference detected!
Wikia is a free-to-use site that makes money from advertising. We have a modified experience for viewers using ad blockers

Wikia is not accessible if you've made further modifications. Remove the custom ad blocker rule(s) and the page will load as expected.