Yuuji Mita
Talk

0
9,760pages on
this wiki

"OhBlue!"
U.A.O.H. Yuji Mita (UAOH 三田 祐司, Mita Yūji) is OhBlue (オーブルー, Ōburū) of the Ohrangers. He is 21 years old.
Biography
Ohranger
A swift person, Mita is an expert in fencing and gymnastics. His recklessness makes him the most childish member along with his way of speaking. Mita uses jumps and midair fighting tactics. Visor shape: ▼
Gaoranger vs. Super Sentai
OhBlue is among the Sentai warriors seen in clips when Daimon Tatsumi (GoYellow) lectured Kai Samezu (GaoBlue) about the past Sentai technical warriors and their fighting spirit. Hyakujuu Sentai Gaoranger vs. Super Sentai
Gokaiger
Legend War
Years later, Yuuji fought alongside not only his own team, but every single Sentai ranger in existence, against the Empire of Zangyack when it attacked the Earth in the Great Legend War. After fighting against hundreds of Gormin and their Zgormin commanders. Kaijou noticed the fleet moving towards them, he gathered all the Rangers together and gave them the order to sacrifice their powers to wipe out the first invasion's armada. The OhBlue powers are later used by Joe Gibken via the Ranger Keys. Ep. 1: The Space Pirates Appear Gokaiger Goseiger Super Sentai 199 Hero Great Battle
Farewell Space Pirates
After the Zangyack's final defeat, Captain Marvelous returned the Ranger Keys to their original owners. It is assumed Yuuji and his teammates have their powers once again. Final Ep.: Farewell Space Pirates
Super Hero Taisen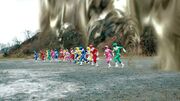 Yuuji, alongside his team (bar KingRanger), among the majority of the Super Sentai heroes, was caught up in the "Super Hero Taisen" incident which eventually resulted in the Super Sentai teams and Kamen Riders joining forces to defeat both Dai-Zangyack and Dai-Shocker. Kamen Rider × Super Sentai: Super Hero Taisen

OhBlue
UAOH Mecha
Arsenal
Ranger Key
The OhBlue Ranger Key (オーブルーレンジャーキー, ŌBurū Renjā Kī?) is Yuuji's personal Ranger Key and what became of his powers after he along with the rest of the 34 Super Sentai sacrificed their powers to end the Great Legend War.
This key along with the majority of the Ranger Keys were collected by the Red Pirates and later used by the Gokaigers. The OhBlue Ranger Key was mainly used by Joe Gibken (Gokai Blue), who used it to fight as OhBlue.
After Zangyack were finally defeated, the Gokaigers gave the Ranger Keys back to their rightful owners. It is presumed that Yuuji received his key and became OhBlue once more.

Behind the scenes
Portrayal
Yuuji Mita is portrayed by Masashi Goda (合田 雅吏, Gōda Masashi?). As OhBlue, his suit actor was Yasuhiro Takeuchi (竹内 康博, Takeuchi Yasuhiro?).
See Also