| | |
| --- | --- |
| | This article is about a/an actor and voice actor in the Super Sentai series. |
Yūji Kishi (岸 祐二, Kishi Yūji) is a Japanese actor and voice actor.
He played Kyosuke Jinnai (Red Racer) in Gekisou Sentai Carranger. He also played one of Shurikenger's human forms, Kazuma Namekawa in Ninpu Sentai Hurricaneger. Kishi also voiced his Power Rangers counterpart T.J. Johnson in the Japanese dub of Power Rangers Turbo, In Space and Lost Galaxy. He is also well known as a voice actor, his most famous role being Ken Masters in the recent Street Fighter games.
He had starred in the Japanese production of Les Miserables: The Musical as part of the Ensemble from 2003 until 2006 and has also starred as Enjolras from 2005 until he ended his performance by the end of 2007. He also starred as John in the Japanese production of Miss Saigon from 2008 till 2009. In 2015, he will star again in Les Miserables: The Musical but this time he will star as Javert.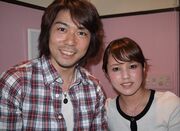 He was married to Mika Kikuchi, who played Koume Kodou (DekaPink) in Tokusou Sentai Dekaranger, in 2009. However, it has been announced that they have divorced.[1]
Roles
TV
Super Sentai
Kamen Rider
OVA
Dubbing
Archive Footage
References
External Links