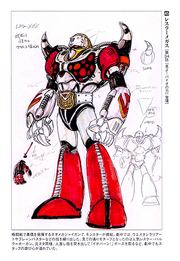 Wrestler Megas (レスラーメガス, Resurāmegasu, 34) is a Neo Mecha-Gigan of Neo Empire Gear, piloted by Monster.
Overview
A mecha with huge strength and multiple wrestling abilities, including a Western Lariet, Brain Buster and Knee Drop
History
Wrestler Megas is sent to Monster after his upgraded Zyuoh is defeated by the full-powered Super Electron mastered by Bioman. Its strength was overwhelming to Bio Robo, crushing them until it missed a Knee Drop, leaving it open to the mecha's Bio Particle Cut finisher.
Notes
Wrestler Megas possesses a striking resemblance to American wrestler Hulk Hogan.
References