Confrontation Qi Soldier Wagataku is a Confrontation Fist Machine Soldier created by Sea Fist Demon Rageku to assist Rio in combat.
Character History
A Kuwagatamushi Confrontation Ki Soldier that came to life thanks to Rageku's Confrontation Ki and assist Rio in his search for the other Fierce Beast-Fist users. The Confrontation Beast Stag-Fist (臨獣スタッグ拳, Rinjū Sutagguken) style which relies on an armored body and a pincer-shaped spear has been input into it. Though destroyed by Super GekiBlue, Wagataku is recreated a giant, only to be obliterated by the combined attacks of all nine GekiBeasts, with Butoka absorbing the residual Confrontation Ki. A Fury Confrontation Machine Soldier version is created by Maku to wreak havoc on the city until it is destroyed by GekiFire.
Personality
to be added
Modus and Arsenal
Stag Ringi
Confrontation Ki Hoe Wave (臨気鍬波, Rinki Kuwaha)

Fury Confrontation Ki Hoe Wave (怒臨気鍬波, Dorinki Kuwaha)
Confrontation Machine Soldiers' Ringi (with Butoka)
Confrontation Ki Joint Soldier Wave (臨気合兵波, Rinki Gōheiha)

Fury Confrontation Ki Joint Soldier Wave (怒臨気合兵波, Dorinki Gōheiha)
Notes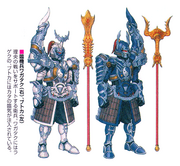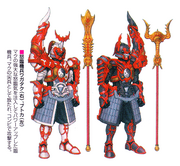 Behind the Scenes
His name is an anagram for Kuwagata (

クワガタ

), the Japanese name of "Stag Beetle."
See Also
References
Ad blocker interference detected!
Wikia is a free-to-use site that makes money from advertising. We have a modified experience for viewers using ad blockers

Wikia is not accessible if you've made further modifications. Remove the custom ad blocker rule(s) and the page will load as expected.