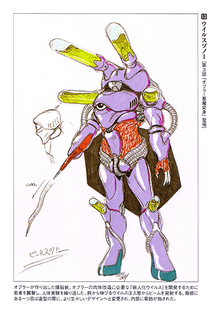 description to be added
Character History
This monster was used by Obular in his experiment to mutate humans through its needle tendrils as test subjects for his own evolution. After being accidentally hit by its master, This monster was destroyed by the Biomotion Blaster before being reformed into a giant by Giga Phantom. In the end, this monster was destroyed by the Live Robo.
Personality
to be added
Modus and Arsenal
Notes
Portrayal
Behind the Scenes
References
Ad blocker interference detected!
Wikia is a free-to-use site that makes money from advertising. We have a modified experience for viewers using ad blockers

Wikia is not accessible if you've made further modifications. Remove the custom ad blocker rule(s) and the page will load as expected.