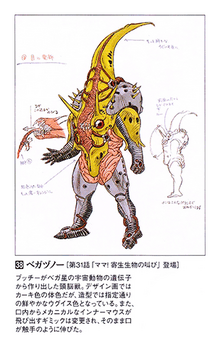 description to be added
Character History
A monster made by Guildos and Butchy from a life form originating from Planet Vega as a means to catch up to Kemp and Mazenda. Attacking the Liveman with his creators, this monster impregnates Junichi with its seed and made sure the Liveman do not take Junichi to an abortion clinic until Junichi decides to let nature take it course. When Vega Baby (ベガベビー Begabebī?) is born, he is seen by Guildos and Butchy as a failure due to the fact that he was too soft and saw Green Sai as his mother. After this monster kills Vega Baby, Green Sai takes the infant's death hard as he battles this monster with extreme prejudice before the Livemen use the Biomotion Buster. After being revived by the Giga Phantom, this monster was destroyed by the Live Boxer.
Personality
to be added
Modus and Arsenal
Notes
Portrayal
Behind the Scenes
References
Ad blocker interference detected!
Wikia is a free-to-use site that makes money from advertising. We have a modified experience for viewers using ad blockers

Wikia is not accessible if you've made further modifications. Remove the custom ad blocker rule(s) and the page will load as expected.