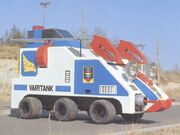 Varitank (バリタンク, Baritanku, 43-84): Six-wheeled tank with claw arms that rolls out of the 'beak' of the Varidreen. Usually piloted by Aorenger and Yoko Kato.

Merchandise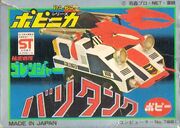 The Varitank was released as part of the Gorenger Toyline. The Tank comes with four wheels and pinching extending claws.
The Varitank was released in the United States as part of the "Shogun Warriors" toy line.[1]
References
Ad blocker interference detected!
Wikia is a free-to-use site that makes money from advertising. We have a modified experience for viewers using ad blockers

Wikia is not accessible if you've made further modifications. Remove the custom ad blocker rule(s) and the page will load as expected.