Variblune
Talk

0
9,799pages on
this wiki
Variblune (バリブルーン, Bariburūn?, 1-42): The original Sentai flying fortress. An early bulldog-like VTOL aircraft, propelled by helicopter blades under the craft. Its "mandibles" can open up and deploy various tools depending on the situation, and can store the Gorenger Machines. It blew up with Iron Man Mask Temujin aboard (but not the Gorengers, fortunately). It was replaced by the Varidreen.
Gokaiger
Years later, a salaryman owned a toy replica of the Variblune. Due to his money troubles, he considered selling it but decided it wouldn't be worth it. When the Black Cross Colossus attacked, the toy became the Variblune itself and united with the other revived mecha to fight Black Cross Colossus. It combined with GokaiOh, resulting in Goren GokaiOh, in order to enable it to fly and execute the Gokai Hurricane Cassiopeia to destroy the Black Cross Colossus. Gokaiger Goseiger Super Sentai 199 Hero Great Battle The Variblune was summoned, along with MagiDragon, the Pat Striker, GekiTiger, and the Dragon Headder all at once to finish off the Fake GokaiOh. Kaizoku Sentai Gokaiger the Movie: The Flying Ghost Ship
After using a array of greater powers against a vast fleet of Zangyack ships in Ackdos Gill's invasion, the Variblune was summoned and combined into Goren GokaiOh, and when used in conjunction with the greater powers of Dynaman and Jetman, the fleet was wiped out. However, reinforcements suddenly appeared and Goren GokaiOh was beaten and badly damaged. Ep. 50: The Day of Battle





Other Combinations
Goren GokaiOh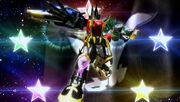 Goren GokaiOh uses the Gokai Hurricane Cassiopeia for a finisher. The Gorenger's Greater Power was granted to them by Tsuyoshi Kaijou (AkaRanger) during the return of his old enemy, the Black Cross King. While Gorengers' Variblune was one of the prerequisites to mecha, it actually became a mecha when it was used with the GokaiOh.

Merchandise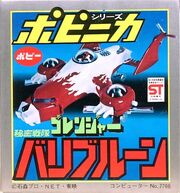 The Variblune flying fortress was released as part of the Gorenger Toyline.