DinoStegazord
Talk

0
9,872pages on
this wiki
 

Dino Stegazord
Zords:


Season:
Dino Thunder
First Appearance:
{{{firstepisode}}}
Last Appearance:
{{{lastepisode}}}
Number of Episode
Appearances:
{{{numberofepisodes}}}
Full list of appearances
Length:
m
Width:
26.2 m
Height:
49 m
Weight:
3700 t
Speed:
km/h
The Dragozord and the Stegozord combine to create the Dino Stegazord. The DinoStegazord is equipped with the tail attack and the Stega Stinger It can combine with all the Auxillary Zords, just like the Thundersaurus Megazord. The DinoStegazord is a little stronger than the Thundersaurus Megazord.
Though it is usually used by Trent Fernandez, Tommy Oliver used it briefly by entering the Stegozord when Trent was busy fighting his clone.
Biozords
Dragozord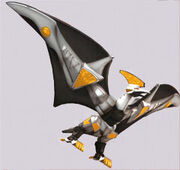 See also: Blastasaur TopGaler
The Dragozord is a white Tupuxuara Zord (a greater version of the Pterazord) piloted by Trent Fernandez. It can release powerful whirlwinds with his wings and combine with the Stegozord to form the Dino Stegazord. It is not to be confused with the similarly-named Dragonzord.
Stegozord
See also: Blastasaur Stegosraidon
The Stegozord is a crimson auxillary Zord patterned after a Stegosaurus. It can form a water-ski vehicle for the Thundersaurus Megazord, and a majority of the body for the Dino Stegazord.
Stega Surfboard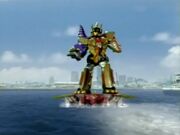 The
Stega Surfboard
was a board form for the Stegozord used by
Thundersaurus Megazord
. The Megazord would stand on top of it and use it as a surfboard as a giant wave came. They would then move really fast next to their enemy continually attacking them.
Other Combinations
Valkasaurus Megazord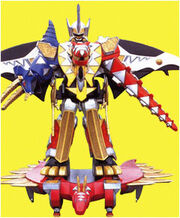 See also: OoAbarenoh
The Dino Stegazord can combine with the Thundersaurus Megazord with additions from the Mezodon Megazord (Triceramax Megazords helmet, and Mezodon Megazords hatchets) to create the Valkasaurus Megazord. The Valkasaurus Megazord utilizes the Stegozord to surf down the Brachiozord's neck to unleash a forceful attack on its opponents.
See Also