description to be added
Character History
Resembles an Olympic torch. He was sent to steal a jewel the Bowzock hoped to use in a new super-weapon to blow up Earth. Uses weapons based on various Olympic events, including javelins and rhythm gymnastic ribbons. Destroyed by RV Robo.
Personality
to be added
Modus and Arsenal
Javelins
Rhythm gymnastic ribbons
Notes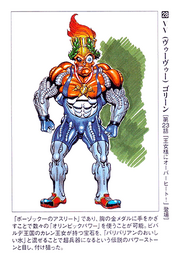 Portrayal
Behind the Scenes
VV Gorlin's theme of being an Olympic athlete coordinated with the episode airing at the same time as the 1996 Summer Olympic Games in Atlanta, GA, USA.

The usage of various athletic instruments such as ribbons and javelin as weapons is similar to Sentai team Goggle V.
His name is a pun on 五輪 (

Gorin

), which means Olympics and his motifs are an Olympic torch and an Olympic cauldron.
References