description to be added
Character History
Resembles an Olympic torch. He was sent to steal a jewel the Bowzock hoped to use in a new super-weapon to blow up Earth. Uses weapons based on various Olympic events, including javelins and rhythm gymnastic ribbons. Destroyed by RV Robo.
Personality
to be added
Modus and Arsenal
Javelins
Rhythm gymnastic ribbons
Notes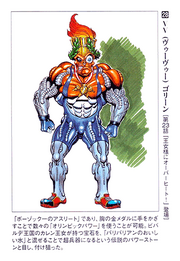 Portrayal
Behind the Scenes
References
Ad blocker interference detected!
Wikia is a free-to-use site that makes money from advertising. We have a modified experience for viewers using ad blockers

Wikia is not accessible if you've made further modifications. Remove the custom ad blocker rule(s) and the page will load as expected.