Usada Lettuce
Talk

2
9,840pages on
this wiki
Usada Lettuce (ウサダレタス, Usada Retasu?) is the rabbit-like Buddy Roid partner of Yellow Buster. Usada often can be overbearing towards Yoko like a father, which can lead to fights, but they quickly reconcile.
Compared to the other Buddy Roids, Usada has the most faith in Yoko's abilities. However, this faith can be viewed as "overestimation", as he and Cheeda Nick will often clash with each other when it comes to the performance of either Go-Buster.
He has a habit of saying "Roger rabbit" as opposed to just "roger".
In the base, He works on data management in the control room. He can combine with Buster Vehicle RH-03 to modify its helicopter mode or to become a MegaZord.
Protector Armors
Usada Lettuce can combine with Yellow Buster, as well as her alternate reality counterpart, Yellow Rabbit, forming protective armor on their suits.
As Yellow Buster uses the GB Custom Visor, Usada Lettuce's data transfers and projects onto Yellow Buster's suit to form a powerful armor based on the "protector" prototypes. Usada and Yellow Buster, to a degree, are combined and can generate airborne forcefields on which Yellow Buster can jump onto and from. Yellow Buster/Usada gain the attack "Rappit Kick" which is a super-charged full body projectile and/or drill attack.

Buddy Roid Key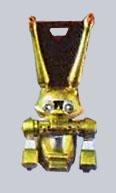 The Usada Lettuce Key (ウサダ・レタスキー, Usada Retasu Kī?) is Usada Lettuce's Buddy Roid Key. The Gokaigers gained access to these through the Phantom Ranger Keys. Tokumei Sentai Go-Busters vs. Kaizoku Sentai Gokaiger: The Movie

Video Game appearances
Go-Busters video game
Usada appears with the other Buddyroids in the Nintendo DS Tokumei Sentai Go-Busters video game.
Behind the scenes
Portrayal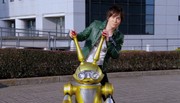 Usada Lettuce is voiced by Tatsuhisa Suzuki (鈴木 達央, Suzuki Tatsuhisa?).
Sentai notes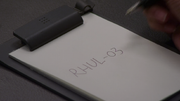 His habit of saying "Roger rabbit" instead of just "Roger" is a reference to Who Framed Roger Rabbit.
There are some traits that make Usada unique among the four main Buddy Roids:
When Usada was kidnapped in Mission 9: Usada Rescue Strategy!, his identification code number was revealed to be RHUL-03 (which the RH stands for Rabbit Helicopter and UL are his initials).