The Ultra Hades Beast Living Sword (超冥獣リビングソード, Chōmeijū Ribingu Sōdo) was Hades Beastman Beserker King Glúm do Bridon's metallic servant that is actually an animated sword.
Character History
A giant beast whose body is composed of many metallic spikes and blades. He fought and defeated MagiKing, and aided in King Glúm do Bridon's kidnapping of Yuka Yamazaki. He consumed his master in order to become Sword of Glúm, only to be killed by SaintKaiser.
Personality
To be added
Modus and Arsenal
Notes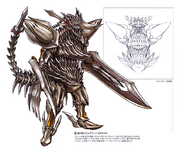 Portrayal
Behind the Scenes
References
Ad blocker interference detected!
Wikia is a free-to-use site that makes money from advertising. We have a modified experience for viewers using ad blockers

Wikia is not accessible if you've made further modifications. Remove the custom ad blocker rule(s) and the page will load as expected.