The Ultimus Megazord is a toy-exclusive megazord loosely based on Hyakujuu Gattai GaoKnight from Hyakujuu Sentai Gaoranger.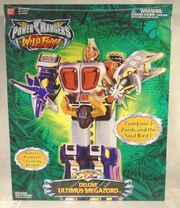 The toy has a few qualities that are different from its counterpart. The Bison that it comes with is painted purple and is permanently in leg form, it does not come with the Eagle or Elephant Wildzords, and instead of the Tiger, it comes with the Soul Bird.
See also
Ad blocker interference detected!
Wikia is a free-to-use site that makes money from advertising. We have a modified experience for viewers using ad blockers

Wikia is not accessible if you've made further modifications. Remove the custom ad blocker rule(s) and the page will load as expected.