description to be added
Character History
Bowzock who drank Gekibaka (Violent Idiot) drinks to become mindlessly powerful. He rode a motorcycle, which he also poured a Gekibaka drink into the gas tank. This caused the speed to increase and triggered a massive forest fire. In battle, he could breathe fire as well, though this was strengthened with the help of the drink.
Personality
to be added
Modus and Arsenal
Notes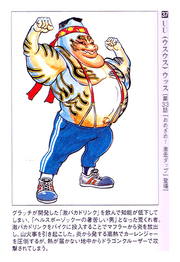 Portrayal
Behind the Scenes
UU Ussu is modif of that of a Tiger
See Also
References
Ad blocker interference detected!
Wikia is a free-to-use site that makes money from advertising. We have a modified experience for viewers using ad blockers

Wikia is not accessible if you've made further modifications. Remove the custom ad blocker rule(s) and the page will load as expected.