Tsubotoguro (ツボトグロ, Tsubotoguro, 42): Tsubotoguro is an Ayakashi who serves under Akumaro, able to unleash a swarm of insects from his body. After being slain by Super Shinken Red, he is destroyed by DaiKaiShinkenOh with the Ika Tenkuu Buster. He is the basis of the Hitōban (飛頭蛮) of Chinese myth.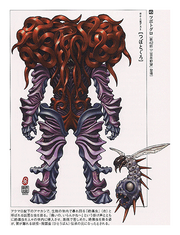 See also
Ad blocker interference detected!
Wikia is a free-to-use site that makes money from advertising. We have a modified experience for viewers using ad blockers

Wikia is not accessible if you've made further modifications. Remove the custom ad blocker rule(s) and the page will load as expected.