Trinoid #3: Tensaikikku (トリノイド三号.テンサイキック, Torinoido Sangō: Tensaikikku, 11): Tensai (Sugar Beet, but it also means Genius) + Sai (Rhinoceros) + Psychic. Posed as a human to set up the Genius Bushiban school, offering to give people psychic power with his Psychic Carrots while making them into his slaves.
He used his Psychic Group to fight the Abarangers, until Emiri destroyed the source of his power, knocking the others conscious before he was defeated by a combo attack of Emiri using Abalaser and the other with the Dino Dynamite attack. He was killed by Abarenoh, only to be revived as "Tensai Yellow" to form part of the Evoranger, but was later killed along with his teammates by AbareKiller in Abare Mode.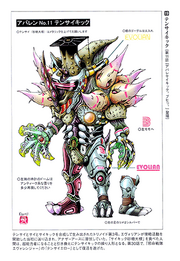 See Also
Ad blocker interference detected!
Wikia is a free-to-use site that makes money from advertising. We have a modified experience for viewers using ad blockers

Wikia is not accessible if you've made further modifications. Remove the custom ad blocker rule(s) and the page will load as expected.