Trinoid #19: Hagetakarachi (トリノイド十九号.ハゲタカライチ, Torinoido Jūkyūgō: Hagetakarachi, 35): Hagetaka (Vulture) + Takara (Treasure) + Lychee. Sent to obtain the Devil's Stone, a piece of the meteorite that hit Earth, from the museum. Using his "Lichi Bomber", he strips Ranru of her power as AbareYellow, only for his attack to be used against him.
After a chase and being duped by Ranru in various guises, he used Asuka's ring to exchange for the Devil's Stone, unaware that Sanjou booby-trapped it. With the stone destroyed, the Trinoid was intended to kill the Abarangers until he was defeated by Asuka in the Cursed Armor. Killed by Legendary Blastasaur Styracosaurus & DinoCarry.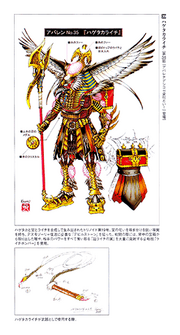 See Also
Ad blocker interference detected!
Wikia is a free-to-use site that makes money from advertising. We have a modified experience for viewers using ad blockers

Wikia is not accessible if you've made further modifications. Remove the custom ad blocker rule(s) and the page will load as expected.