Trinoid #11: Ayameganezumi (トリノイド十一号.アヤメガネズミ, Torinoido Jūichigō: Ayameganezumi, 17): Ayame (iris) + Megane (Spectacles) + Nezumi (Rat). Planted irises grow on summon an April Front shower to cause trouble. Defeated by the Super DinoBomber after a brutal laydown by Abare Black, Ayameganezumi was killed by Abarenoh Slidon. Was revived as Ayamega Blue, only to be killed by Abare Killer.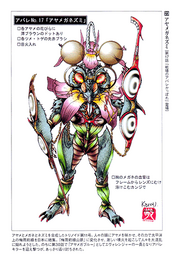 See Also
Ad blocker interference detected!
Wikia is a free-to-use site that makes money from advertising. We have a modified experience for viewers using ad blockers

Wikia is not accessible if you've made further modifications. Remove the custom ad blocker rule(s) and the page will load as expected.