Trinoid #10: Sharkurumarguerite (トリノイド十号.シャークルマーガレット, Torinoido Jūgō: Shākurumāgaretto, 15 & 16): Shark + Kuruma (car) + Marguerite. People he shot with his Exhaust Cannon become infected with a mysterious deadly disease with blue spots as symptoms. After picking petals off a large flower, he can break the minds of his enemies by forcing them to mentally encounter illusions of what they hate (Ranru hates natto for example) so they could fight themselves until he leaves the scenery, but apparently Ryouga was immune to it as he has nothing to hate.
Once powered up by Mikela, Sharkurumarguerite could shoot water from his mouth or his Shark Tsunami, a tidal wave attack that could've sunk the city. By that time, Asuka, Ranru, & Yukito overcame their illusions and defeated Sharkarmarguerito, restoring his victims. Killed by Abarenoh Slidon. Was revived as SharkaRed only to be killed by Abare Killer.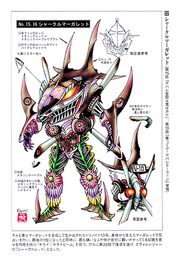 See Also
Ad blocker interference detected!
Wikia is a free-to-use site that makes money from advertising. We have a modified experience for viewers using ad blockers

Wikia is not accessible if you've made further modifications. Remove the custom ad blocker rule(s) and the page will load as expected.