Torpedo Piranha
(ギョライピラニア
Gyoraipirania
) (37): The result of Radiguet's Bio Dimensional Bug with piranha DNA fusing unto a torpedo, this monster was sent by Radiguet in an attempt to kill Tranza and Ryu. However, the other Jetmen arrive and managed to destroy it by attacking the head on its stomach before it fired its trademark torpedo attack. This monster was not enlarged as the Dimensional Bug did not survived in the end.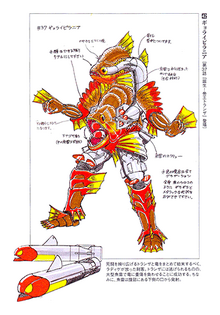 Ad blocker interference detected!
Wikia is a free-to-use site that makes money from advertising. We have a modified experience for viewers using ad blockers

Wikia is not accessible if you've made further modifications. Remove the custom ad blocker rule(s) and the page will load as expected.