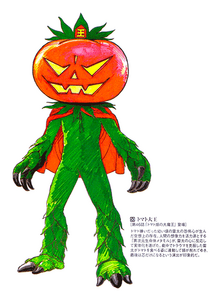 Tomato Great King (トマト大王, Tomato Daiō, 46): The result of an Outer Dimensional entity called Metamol assuming the form of a nightmare from Raita's childhood when he was afraid of tomatoes, the Tomato Great King possesses the power to turn people into tomato-headed freaks. Because it feeds on Raita's fear, this monster overpowers the Jetman as Tranza enlarges it. However, once Raita manages to overcome his childhood fear, this monster loses his power until he is reduced to a headless version of himself. This monster was destroyed by Jet Garuda.
Ad blocker interference detected!
Wikia is a free-to-use site that makes money from advertising. We have a modified experience for viewers using ad blockers

Wikia is not accessible if you've made further modifications. Remove the custom ad blocker rule(s) and the page will load as expected.