Tokusatsu Bouken Katsugeki Super Hero Retsuden
Talk

0
Share
"I'm sorry, Rangers, but we simply do not have enough information to proceed."
This article is a stub, meaning it needs more info. You can improve this RangerWiki article by expanding it.
| | |
| --- | --- |
| | This article is about a/an crossover video game in the Super Sentai series. |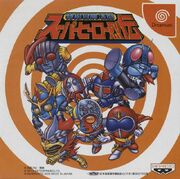 Came out for Dreamcast, featured, Gorenger, J.A.K.Q., Kamen Rider 1, Kamen Rider 2, Kamen Rider V3, Riderman, Kamen Rider X, Kamen Rider Amazon, Kamen Rider Stronger, Electro-Wave Human-Tackle, Skyrider, Kamen Rider Super-1, Kamen Rider ZX, Kamen Rider Black, Kamen Rider Black RX, Kikaider, Kikaider 01, Inanzuman, Uchuu Tetsujin Kyodain, Kamen Machineman, Robocon, and others.
Characters
Super Sentai
Himitsu Sentai Gorenger
J.A.K.Q. Dengekitai
Kamen Riders
Uchuu Tetsujin Kyodain
| | |
| --- | --- |
| Skyzel | Jouji Hayami |
| Grounzel | Ryouji Hayami |
Other Heroes
Kikaider

Jiro

Kikaider 01

Ichiro
Poitrine
Yuko Murakami
Sanagiman
Goro Watari
Inazuman
Machineman
Nick Takase
Robocon
Robot Detective
Robot Detective K
Arashi
Hayate
Shinsei
Tsukinowa
Villains
Ad blocker interference detected!
Wikia is a free-to-use site that makes money from advertising. We have a modified experience for viewers using ad blockers

Wikia is not accessible if you've made further modifications. Remove the custom ad blocker rule(s) and the page will load as expected.