Thunder Ninja Undaigo (雷忍者ウナダイゴ Kaminarinin Unadaigo?, 24): A drum-themed Chunin robot, Sargain created him with his research on the Gouraigers to absorb electricity and unleash it with his Space Lightning Taiko Drums. Unadaigo managed to overpower Sky Ninja Shurikenger and the Hurricanegers, keeping them from hitting his weakspot, his lightning absorber. Ikkou and Ishhu attempted to beat him with Taiko style, before assuming Gouraiger form and defeating Unadaigo with their Double Gadget. This ninja was then recreated with a serrated sword weapon. He overpowered Senpuujin and Gouraijin until Shurikenger gave Gouraijin the Kabuto Spear to kill off Unadaigo.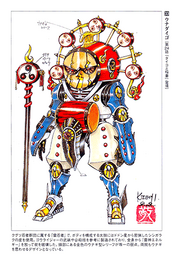 See also
Ad blocker interference detected!
Wikia is a free-to-use site that makes money from advertising. We have a modified experience for viewers using ad blockers

Wikia is not accessible if you've made further modifications. Remove the custom ad blocker rule(s) and the page will load as expected.