There Go the Brides
Talk

7
9,852pages on
this wiki
There Go the Brides is the eighth episode of Power Rangers Samurai.
Summary
Dayu crosses into the mortal world to cause misery by kidnapping brides on their wedding day, in an attempt to destroy the earth. Dayu and the Moogers start kidnapping brides to create as much despair as possible, so the Samurai Rangers use a fake wedding to try and trap her. After she doesn't show her face, they make Jayden and Mia pose as another couple at a wedding, which leads to Mia being kidnapped. However, Dayu noticed the trap and also kidnaps the "real" bride, whom turns out to be Emily in a disguise. After almost sending the Rangers into an ambush, the Rangers challenge Dayu to a battle in the nearby forest and quarry. After trying to destroy her however, a new Nighlok named Deker shows up, and Jayden catches his attention. After a sinister comment, Deker and Dayu go back to the Netherworld.
Synopsis
To be added
Cast
Notes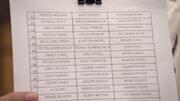 This episode's title is a pun off of "Here Comes the Bride".

Britanny Pirtle's Name

On the list that Mentor had, if you look closely you can see the names of Emily and Mia's actresses, though the latter is changed by one letter.

This is the first episode Bulk and Spike interact with the Samurai Rangers.
Errors
Emily has a duplicate, even though she isn't with the other Rangers. This error was present in the Shinkenger episode this was adapted from, with a Shinken Blue clone present despite Ryunosuke being the decoy bride.
When Dayu tells Mia to call the other rangers, the zipper on her wrist is visible.
See also