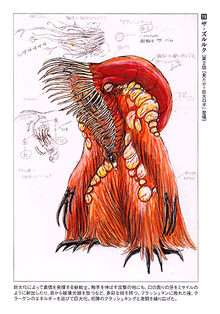 The Zululuk is a Beast Warrior creation of the Reconstructive Experiment Empire Mess
Character History
An anenome based monster sent after the Flashmen while Mess harvested aquatic lifeforms, blasted by the Rolling Vulcan before the newly born Kuragen appears and revives the monster as it overpowers the Flashmen with its newfound size. However, the Flashmen counter with their mecha and destroy this monster with the Flash King.
Personality
to be added
Modus and Arsenal
Notes
Portrayal
Behind the Scenes
References
Ad blocker interference detected!
Wikia is a free-to-use site that makes money from advertising. We have a modified experience for viewers using ad blockers

Wikia is not accessible if you've made further modifications. Remove the custom ad blocker rule(s) and the page will load as expected.