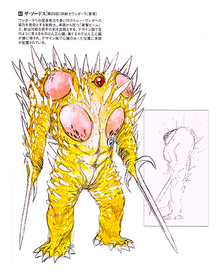 description to be added
Character History
A Beast Warrior with spikes covering its body and two swords in its hands; as well as a sole eye it can fire a beam through. It assisted Ley Wanda after Lee Keflen upgraded his form to the Monster Warrior Wandala. The Flashman destroy it with the Rolling Vulcan, then again with Great Titan after it is rebuilt and grown.
Personality
to be added
Modus and Arsenal
Notes
Portrayal
Behind the Scenes
References
Ad blocker interference detected!
Wikia is a free-to-use site that makes money from advertising. We have a modified experience for viewers using ad blockers

Wikia is not accessible if you've made further modifications. Remove the custom ad blocker rule(s) and the page will load as expected.