The Impenetrable Web is the fortieth episode of Power Rangers In Space.
Synopsis
With the Astro Megaship trapped in a dangerous forcefield, preventing the Power Rangers from accessing it, Alpha 6 is forced to protect the vessel alone against Ecliptor.
Plot
to be added
Cast
Zords
Errors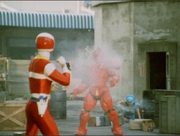 In the shot after Andros defeats Ecliptor with the Spiral Saber, he is no longer holding the Spiral Saber, and Shibolena can clearly be seen in the background.

Notes
Final appearance of the Delta Megazord, which is destroyed.
This is the only episode to feature the Mega V1 zord, but not the other Mega V zords.
This is one of the few character-focused episodes for the Alpha robots, and one of the few for Alpha 6 in particular. Alpha 5 has at least five of them.
This marks the first & only appearance of Red Ecliptor.
See Also
Ad blocker interference detected!
Wikia is a free-to-use site that makes money from advertising. We have a modified experience for viewers using ad blockers

Wikia is not accessible if you've made further modifications. Remove the custom ad blocker rule(s) and the page will load as expected.