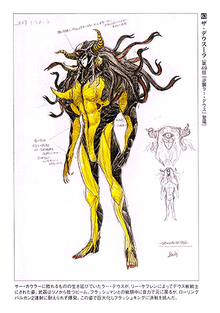 description to be added
Character History
The sixth Deus Beast Warrior created from Lah Deus himself after a traitorous Great Doctor Lie Köpflen throws his former master into the Gene Synthesizer out of anger of learning his true origin and his desires of becoming Mess' new leader. The Deusura possesses the great power of Lah Deus himself, but in a more savage, destructive form compared to the calm power of Lah Deus who is able to withstand his mutation and face the Flashman on his own. After the Flashman defeat the emperor, Lie Köpflen revives him with Kuragen into his Deusura form, forcing a hard battle in Flash King before finally destroying him completely with their Super Cosmo Flash.
Personality
to be added
Modus and Arsenal
Notes
Portrayal
Behind the Scenes
References
Ad blocker interference detected!
Wikia is a free-to-use site that makes money from advertising. We have a modified experience for viewers using ad blockers

Wikia is not accessible if you've made further modifications. Remove the custom ad blocker rule(s) and the page will load as expected.