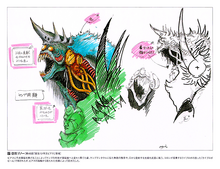 description to be added
Character History
A Brain Beast created from Kemp's physical body implanted with Bias' evil brain after he sacrifices his own mind to become Bias' final 1000-point brain for his master plan. The Brain Beast has an appearance similar to that of Kemp's Fear Beast form and is able to rampage easily after Bias activates his Giga Brain Wave to mentally control all of humanity. However the Fear Beast still found problems against Colon, who used Live Robo on her own due to being a robot unaffected by Bias' Giga Brain Wave. After Yuusuke destroys Bias' link to the world, the other Liveman join Colon and form Super Live Robo, destroying the Brain Beast.
Personality
to be added
Modus and Arsenal
Notes
Portrayal
Behind the Scenes
References
Ad blocker interference detected!
Wikia is a free-to-use site that makes money from advertising. We have a modified experience for viewers using ad blockers

Wikia is not accessible if you've made further modifications. Remove the custom ad blocker rule(s) and the page will load as expected.