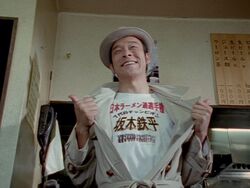 Teppei Sakaki (39) is one of the humans whose appearance was assumed by Shurikenger. Yousuke, Kouta and Nanami were following Shurikenger around town attempting to deduce his identity when he assumed this guise. After supposing that he could be a baseball player, a businessman or a rockstar, their chase ends at a ramen shop, where it turns out Shurikenger was a prized regular and just wanted to have a meal.
Notes
His Name is a possible Reference to Ippei Akaki/DenziRed.
Ad blocker interference detected!
Wikia is a free-to-use site that makes money from advertising. We have a modified experience for viewers using ad blockers

Wikia is not accessible if you've made further modifications. Remove the custom ad blocker rule(s) and the page will load as expected.