| | | |
| --- | --- | --- |
| | This article is about a/an team in the "Teenage Mutant Ninja Turtles" series. See entry below. | |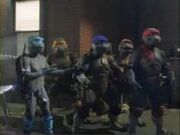 Teenage Mutant Ninja Turtles appeared in Save Our Ship , as well as Shell Shocked . See full entry of Teenage Mutant Ninja Turtles at The Teenage Mutant Ninja Turtles Wiki.
Members
Notes
The actors who previously voiced the Turtles in Ninja Turtles: The Next Mutation did not reprise their roles for the crossover due to the fact that the show was filmed in Vancouver.
In the original version of Day of the Dumpster, when Alpha 5 briefly informed the teenagers on Zoltar and his own backstory, Zack jokingly claimed he was a Ninja Turtle.
Upon growing in "The Trouble with Shellshock", Shellshock says "Wait'll those teenage mutants see what a full-grown turtle can do!".
Several voice actors from Power Rangers Super Legends have done voice work for a Ninja Turtles related production, including:

Steven Blum - The narrator in Teenage Mutant Ninja Turtles: The Way of the Warrior and Speed Demon in the 2012 TV series.
Nolan North - Raphael in TMNT (2007 Movie) and the Kraang in the 2012 TV series.
Kim Mai Guest - Additional voices in TMNT.
See Also