Ad blocker interference detected!
Wikia is a free-to-use site that makes money from advertising. We have a modified experience for viewers using ad blockers

Wikia is not accessible if you've made further modifications. Remove the custom ad blocker rule(s) and the page will load as expected.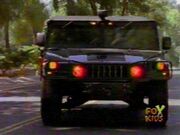 Tankenstein was a powerful shapeshifting mechanical entity used by Astronema. He was a humvee that tracked down and hunted the Power Rangers. When it found them, it ran them over and teleported them to a desert, resisting their blasters and weapons. It found a formidable opponent in Zhane's Galactic Rover, who destroyed him.
Astronema then ordered the Satellasers fired, and Tankenstein reconstituted. When grown, he took a robot form and the Mega Voyager jump-punched Tankenstein, took his sword, and stabbed him in the face, causing him to grab the Mega Voyager and lift off high above the city. Tankenstein exploded in a massive fireball in the sky, taking the Mega Voyager with him. The Mega Voyager was destroyed, however the Rangers managed to survive. A Line in the Sand
Notes
See Also