Table Shadow (テーブルシャドー, Teburu Shadō?) is a shadow monster which appear in Episode 31 & Episode 32 of ToQger.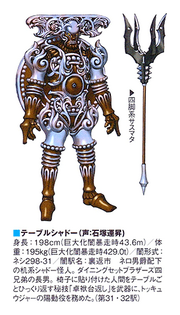 Notes
ID Number: Ne Shi 298-31
Station Building: Urakaeshi
Motif: Table
Height: 198 cm (43.6m: giant)
Weight: 195 kg (429.0t: giant)
"Urakaeshi" is the portmanteau of "Capsize" and Urakami (

浦上

?

), a railway station in the Nagasaki Prefacture.
Behind the scenes
Portrayal