description to be added
Character History
Resembles a scale and an adding machine. He seemed to be the Bowzock's best accountant. Though initially targeted by Kyousuke Jinnai and Minoru Uesugi, children stopped them from attacking him due to him assisting them with their summer homework. However, he was actually gaining their trust until he could use them for a watermelon-splitting game with their heads as watermelons. Defeated after Kyousuke and Minoru reconcile differences after a brief period where Minoru was the Carranger leader.
Personality
to be added
Modus and Arsenal
Notes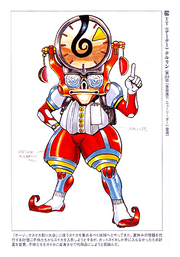 Portrayal
Behind the Scenes
His motif is the one of a primary school student.
See also
References
Ad blocker interference detected!
Wikia is a free-to-use site that makes money from advertising. We have a modified experience for viewers using ad blockers

Wikia is not accessible if you've made further modifications. Remove the custom ad blocker rule(s) and the page will load as expected.