Ad blocker interference detected!
Wikia is a free-to-use site that makes money from advertising. We have a modified experience for viewers using ad blockers

Wikia is not accessible if you've made further modifications. Remove the custom ad blocker rule(s) and the page will load as expected.
Syringe Shadow (チュウシャキシャドー, Cyuushaki Shadō?) is a Shadow Monster that appears in Episode 33 of Ressha Sentai ToQger.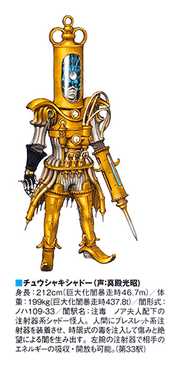 Character History
Notes
ID Number: No Ha 109-33
Station Building: Chuudoku
Motif: Syringe
Height: 212 cm (46.7m: giant)
Weight: 199 kg (437.8t: giant)
"Chuudoku" is the portmanteau of "Poisoned" and "Chihoku" , a railway station in the Hokkaido Prefecture.
Behind the scenes
Portrayal