Supreme Commander Fowler "Birdie"
Talk

0
9,866pages on
this wiki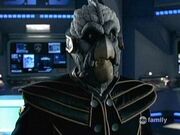 Fowler Birdie was the Supreme Commander of S.P.D.. He is first introduced in the episode Dismissed, where he relieved Commander Cruger of his duties when Cruger refused to cater his strategy to Birdie's liking. He took control of Earth's S.P.D. until he was rescued by Shadow Ranger against Gruumm.
Birdie has a very harsh and commanding personality, and is quick to squawk orders without a second thought. He thought little of the B-Squad and would send them on separate missions. He even talked of having them replaced (for presumed incompetence) just as he replaced Cruger. Unfortunately, his strategies ended up nearly getting the rangers killed, if it were not for Gruumm pulling out when he had the chance to kill them.
Birdie appears in the final S.P.D. episode, Endings, Part 2, where he was among the S.P.D. reinforcements to assist in the final battle against the Troobians, apparently having decided to go into battle himself.
According to Bridge in Once A Ranger, Birdie eventually retires from SPD and moves to Miami to lead a solitary life, placing Cruger as Supreme Commander, and Sky as Earth Commander.
See also