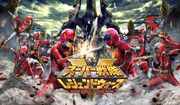 Super Sentai Legend Wars (スーパー戦隊レジェンドウォーズ, Sūpā Sentai Rejendou Ōzu) is an iOS/Android app game released to commemorate the 40th anniversary of the Super Sentai Series, uniting all Sentai Teams from the original Himitsu Sentai Gorenger to the incumbent Uchuu Sentai Kyuranger.
As said in Super Sentai Legend Wars official page (http://sslw.bn-ent.net/), the first 10000 users to pre-register this game will receive Zyuoh The World as a prize after they download the game.
The game is now available to download.
Super Sentai
SuperSkill
Gorenger
JAKQ
Battle Fever J
Denziman
Sun Vulcan
GoggleV
Dynaman
Bioman
Changeman
Flashman
Maskman
Liveman
Turboranger
Fiveman
Jetman
Zyuranger
Dairanger
Kakuranger
Ohranger
Carranger
Megaranger
Gingaman
GoGoFive
Timeranger
Gaoranger
Hurricaneger
Abaranger
Dekaranger
Magiranger
Boukenger
Gekiranger
Go-Onger
Shinkenger
Goseiger
Gokaiger
Go-Busters
Kyoryuger
ToQger
Ninninger
Zyuohger
Kyuranger
References