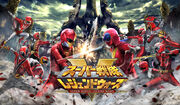 Super Sentai Legend Wars (スーパー戦隊レジェンドウォーズ, Sūpā Sentai Rejendou Ōzu?) is an iOS/Android app game released to commemorate the 40th anniversary of the Super Sentai Series, uniting all Sentai Teams from the original Himitsu Sentai Gorenger to the incumbent Doubutsu Sentai Zyuohger. [1]
As said in Super Sentai Legend Wars offfical page (☀http://sslw.bn-ent.net/), the first 10000 users to pre-register this game will receive Zyuoh The World as a prize after they download the game.
The game is now available to download.
References