Super Sentai Big Gathering (Special Compilation) (スーパー戦隊大集合(特別編), Sūpā Sentai Dai Shūgō (Tokubetsu Hen)) is a special episode of Mirai Sentai Timeranger which aired after the finale. It features the Timerangers travelling back in time in their TimeJets and taking a look at the Super Sentai teams that came before them, featuring clips from past Super Sentai seasons. The team that comes after them is also briefly seen at the end of the special.
Synopsis
The Timeranger travel back to witness the previous Sentai heroes while learning likewise of their successors.
Cast
Notes
Errors
When the Gorenger use the Gorenger Storm, the finisher ends with the explosion for the Goggle Golden Spear from Goggle-V instead of hitting any particular Masked Monster.
The stock footage for the "Full Power Power Bazooka" from Changeman is used against Gabu, the first Space Beast; when they don't gain the full power of their finisher until the battle with the upgraded Queen Ahames.
DVD releases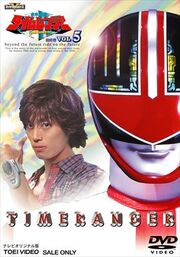 Super Sentai Big Gathering is included in Mirai Sentai Timeranger Volume 5 in addition to episodes 41-50. [1]

References