Super Sentai 199
Talk

4
9,848pages on
this wiki
| | | |
| --- | --- | --- |
| | This article is about a/an set of rangers and heroes in a Super Sentai mega-event as seen in Kaizoku Sentai Gokaiger. | |
For a list of Rangers by series, and some that are not included in this list, see: Sentai Rangers

"We are...SUPER SENTAI!!"
With the 35th Super Sentai series and anniversary of the franchise, Kaizoku Sentai Gokaiger, the heroes of the series have been listed in an official list of 199. The Super Sentai 199 contains the Rangers of the first 35 Sentai teams: all the core teams and the first 16 Sixth Rangers. AkaRed along with 10 Bangai Heroes are included in the list as well. Aside from the 199, Emiri Sanjyou, who donned a fake AbarePink costume in Bakuryuu Sentai Abaranger, boasted that she was the 200th Super Sentai hero. The main list of the Super Sentai 199 is the list that Toei counts as official.
The Super Sentai 199
Gallery
Allies (Post Gokaiger Rangers)
Appearances
Rangers with Dual Civilian identities
Considering the count came about from the Legend War, it includes each power only once - so the following people are not included, due to them being dead or having given up their powers:
Also not included are the predecessors of several teams such as the Dairangers, Gingamen, and Shinkengers, that were the latest in a line of their own team.
Notes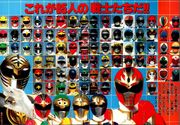 See also