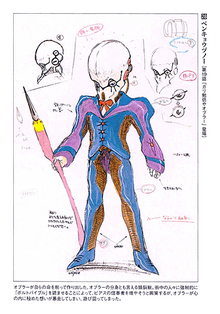 description to be added
Character History
This monster was created by Obular from his own DNA. this monster was sent to force people to study the Volt Bible and brainwash them. However, after being knocked into a roller coaster during a fight at the amusement park, Benyo Zuno starts acting out Goh's subconscious yearning to play, discarding his bookbag to Obular's shock until Guildos arrives and rewrites the monster's mind. After being blasted by the Biomotion Buster, this monster was reformed into a giant by Gash before being destroyed by the Live Robo.
Personality
to be added
Modus and Arsenal
Notes
Portrayal
Behind the Scenes
References
Ad blocker interference detected!
Wikia is a free-to-use site that makes money from advertising. We have a modified experience for viewers using ad blockers

Wikia is not accessible if you've made further modifications. Remove the custom ad blocker rule(s) and the page will load as expected.