Strange Dimensional Lifeform Hell Medusa
Talk

0
Share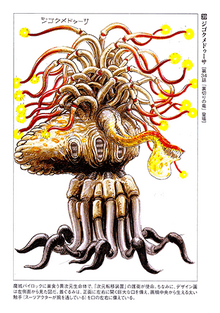 Strange Dimensional Lifeform Jigoku Medusa (異次元生命体ジゴクメドゥーサ Kaijigen Seimeitai Jigokumedūsa?) (34): An internal defense mechanism designed to hunt down any intruders, it attacks Ryu when he infiltrates the Vylock. Enlarging to stop the Great Icarus from taking out the Dimensional Transfer Machine, it siphons the giant robot's energies to become a living bomb to take out the Jetman until the Tetra Boy intervenes and holds the monster long enough for the Great Icarus to destroy Jikgoku Medusa.
Ad blocker interference detected!
Wikia is a free-to-use site that makes money from advertising. We have a modified experience for viewers using ad blockers

Wikia is not accessible if you've made further modifications. Remove the custom ad blocker rule(s) and the page will load as expected.