description to be added
Character History
The first Nezire beast to be sent down to earth, attacking the Musashi district. The Stingray Nezire could fly through space as well as fire laser blasts from his eyes. Kenta Date held the monster at bay until the rest of team arrives. Wounded by MegaRed with the Drill Saber, Stingray retreated into the Nezi Crusher, killed off when Galaxy Mega destroyed the giant machine.
Personality
to be added
Modus and Arsenal
Notes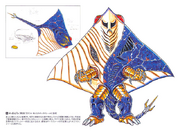 Portrayal
Conception
Behind the Scenes
See Also
References
Ad blocker interference detected!
Wikia is a free-to-use site that makes money from advertising. We have a modified experience for viewers using ad blockers

Wikia is not accessible if you've made further modifications. Remove the custom ad blocker rule(s) and the page will load as expected.