Steampunk (スチームパンク, Suchīmupanku, Movie): A robotic Steam Locomotive monster who says "baby" in his sentences and could turn into an actual Locomotive. Steam Punk was created when all the monsters in the movie fused together into one monster, abducting the children due to being a weak monster. Once he lost his leverage, Steam Punk shrank and attempted to escape on a train track. But, OhrangerRobo sliced the bridge apart with the Super Crown Crash, with Steam Punk unable to stop as he fell to his death below.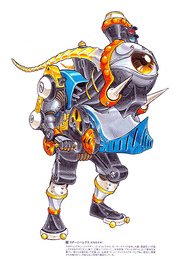 Notes
See Also
Ad blocker interference detected!
Wikia is a free-to-use site that makes money from advertising. We have a modified experience for viewers using ad blockers

Wikia is not accessible if you've made further modifications. Remove the custom ad blocker rule(s) and the page will load as expected.