The Ruler of Darkness ~Uuza Douza Uru Zanga~ (闇の覇王~ウーザ・ドーザ・ウル・ザンガ~, Yami no Haō ~Ūza Dōza Uru Zanga~) is the sixth episode of Mahou Sentai Magiranger. This episode features the first appearance of Dark Magic Knight Wolzard's main Majin battle form: WolKaiser.
Synopsis
Kai is lured by Wolzard into battle, where he discovers more about his enemy's nature as the black wizard manipulates the Magiranger for his purposes.
Plot
Cast
Guest Cast
Spells Used
Notes
As part of Super Hero Time, this episode aired alongside Kamen Rider Hibiki episode 8, Shouting Wind
Pre-Credits Spell: Uuza Douza Uru Zanga (changes Wolzard into WolKaiser)

This is the first episode where the "pre-credits spell" is introduced by the Nightmare Sisters instead of Mandora Boy, due to the focus spell being related to Wolzard; Nai gets disturbed by all the copying Mea does of her
DVD releases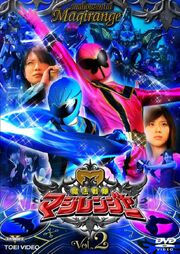 Mahou Sentai Magiranger Volume 2 features episodes 5-8: Stage 5: The Way of Love!, Stage 6: The Ruler of Darkness, Stage 7: Into the Dream and Stage 8: You're Just the Heroine. [1]
References
See Also